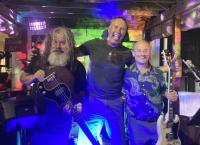 33 RPM was amazing last weekend; hear them Saturday at Bourbon Street.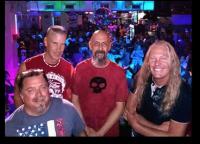 Join the party at The Purple Moose with the awesome music of SURREAL!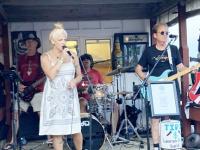 The Lauren Glick Band will play Sunday at Coconuts Beach Bar & Grill.
It's another Bike Week in beautiful Ocean City and the music is amped up all over town for our visitors.  I must confess, my objective is to avoid the big crowds; in younger days I would have been right in the thick of it with so much cool music at the Inlet and in places like Wild Bill's.  But, at this stage of the game, I'm content to relinquish my space to others.  Now that's not to say I'm not still getting out to enjoy live music, because I most certainly am.  Last weekend was a blast with a couple of high-powered rock groups that knocked my socks off (silly saying as you've never seen me in socks).  Friday night I ventured onto the bayside deck at The Angler for the inaugural performance at that venue of 33 RPM.  All their local fans and many, many others turned out to hear them and, I must say, I've never heard the dock rock like that evening.  Mike Beavan on drums and lead vocals is like the Tazmanian Devil in his wild and enthusiastic delivery of every song.  I was quite surprised when he sang "Wicked Game" by Chris Isaak showing me that he is capable of singing a slow, and sexy, ballad as well.  Good job, Mike.  And the guitar work on that song was superb, too, as is everything guitarist Larry Biegel plays.  Last week I called Larry a 'guitar wizard' which is a moniker I had only previously assigned to Chris Button (sure miss him); but Larry has constantly impressed me with his expertise and application of all the latest in sophisticated tech gear.  With the touch of a toe to a pedal, he can duplicate sounds from organ to horn to violin on his guitar; simply and incredibly impressive!  And then there's head-banging, bass thumping Rock!  This guy not only plays to perfection but really gets into the songs as well, providing a visual personification of the music.  He just makes me smile.  And so ... I just had to go to Coconuts Beach Bar & Grill to hear them again on Saturday.  Could it have been any better?  Yes, it was!  The place was packed with locals and visitors who joined together in appreciation of their music, their enthusiasm and their connection with the audience.  We had a blast; one of the best days of the summer for me.  Hear them Saturday at Bourbon Street.

A return visit to Coconuts was in the cards for me because I really wanted to hear The Loomatix play; but Mother Nature had other ideas ... they got the first set in when rain began to fall.  It was light so I decided to hold out until it stopped ... and the band waited, too.  But my back was soon soaked and it showed no signs of stopping so the band packed it up.  Oh well, I look forward to another day.  The weather there on Wednesday was beautiful as was the music of the Bilenki Duo.  This talented couple always strives to provide the music they anticipate their audience to expect, constantly learning new material to achieve that goal.  Their musical catalogue has to be gargantuan.  George & Pat having been singing together for a long time to which I credit their beautifully blending vocal harmonies.  And they are both proficient on their guitars giving their duo the fullness of sound you would expect to be coming from a larger band.  I really love this couple and their music.   They have one more date this season: September 29th. Check the Who's Where When listing for the complete lineup of great music at this beautiful venue (remember to use the little arrow to look at future dates).

The other power-packed band I referred to earlier was Misspent Youth at The Purple Moose.  Wow!  Their first set was incredible with every song being a hit with the audience who roared their approval.  Everyone was excited and on the dance floor immediately.  The excitement in the air was impossible to resist.  The crowd was jumping, hands in the air, singing along - just so much fun.  I was there from beginning to end because I just couldn't wait to hear what they would play next.   The second set was just as good beginning with Bon Jovi and ending with Aerosmith - electrifying energy.  Lead vocalist Dixon has a voice that can handle anything and everything and he has the ability to connect with his audience, drawing them into every moment of the performance.  Lorenzo on lead guitar and vocals recreates the music in its purest original state as does bassist Johnny who, along with keyboardist Adam, also provides vocal support.  And, by the way, the fact that they have Adam means that the band can play many more classics that require a keyboard part, which also contributes to the fullness of sound from this band.  Keeping the heartbeat pounding is drummer Shawn.  It is clear to me why their website presents these claims: ... "the ONLY band to be nominated twice for Best Cover Band at the Maryland Music Awards in 2014 and 2015.  Misspent Youth brings the best dance rock from the '80s to today. Their approach to music is characterized by pure harmonies, tight rhythms and great energy. Playing crowd-pleasing songs covering the biggest hits from bands like Aerosmith and Journey to Bruno Mars and Maroon 5, they are sure to keep any crowd dancing and singing all night."  And they did!  This weekend we are privileged to be entertained by another such band: Surreal!  Most of you have heard them by now and have read all the things I have to say about Walt, Brian, Will & Chris ... so, I'll just say, see you there!

I'm going to wrap it up because I'm anxious to get out to hear Lime Green Band at Coconuts and Surreal later on tonight.  Have a great week, my friends, and please, party safe!



«Go back to the previous page.