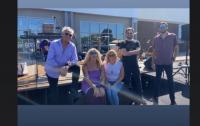 Hi, folks.  Gotta start this off by reminding you that the annual Tipsy Turtle Contest for a Vacation to the Bahamas will be held this Sunday at Coconuts Beach Bar & Grill (behind Castle in the Sand for those who don't know).  Visitors have been entering the contest every week; now the weekly winners will gather to see whose turtle will last the longest in the turtle pond.  You've gotta come out and join the excitement.  Meanwhile the entertainment is excellent as always. Still two acts a day this week; then they'll slip into off-season mode.  This evening hear the amazing voice of Regina as popular duo Rick & Regina will take the stage.  Saturday we can party with Monkee Paw and Sunday, after the contest, No Clue Trio will play for us.  Let's hope Ophelia doesn't mess with our fun too much.The highlight of my week was hearing the entire, start to finish, Jimmy Charles Band performance at Bourbon Street on the Beach.  After several songs from such artists as John Cougar, Lynyrd...
» Click here for the full story.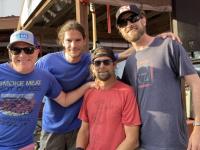 Hi, y'all.  Hope all is well with all of you out there.  I'm beginning to run into some of my favorite people (there are so man) whom I've not seen in so long and that makes me happy.  Last week was a Coconuts kinda week because I went there four times.  Yep, four days to one of my favorite places on the planet: Coconuts Beach Bar & Grill.So let me remember just how all this came to happen.  Friday after 'chatting' with you, it was time to see one of my favorite bands: The Mercury Agenda.  If you've read my columns before, you'll know that I've been enamored of this group since the first time I heard them.  The first impression was how can these young players be so accomplished and how is it that they know so many of my favorite songs from the '60s right on up to today.  Yes, I was impressed.  So, of course, I have seen them many times since and it must be said that they are even better now.  Chris on guitar and fiddle is simply superb.  Nalen is also an accomplished guitarist, and...
» Click here for the full story.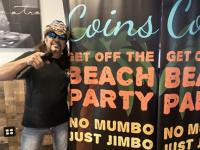 Hi out there my friends.  It felt a little like old times last weekend as I made it out to hear live music three days in a row. Yeah, I really did it!  Saturday afternoon I made my way to Coins where I finally got a hug from Jim Long who was holding court with a huge crowd of his loyal followers.  Seems to me he has exponentially increased his fan base by playing at many different venues rather than being locked into exclusive Seacrets shows that he did for many years.  Since the passing of both band partners, Gene Watson on bass and Mark Fitzgerald on guitar, Long has established summer shows at Beach Barrels on Thursdays, Seaside Grill on Fridays, Coins on Saturdays and Paradise Grill on Sundays.  As I write this I'm listening to Jim's originals on You Tube; I think we forget that in addition to his charisma as an entertainer, he is also a superb songwriter.  Party tunes such as "Perfect Life," "Another Caribbean Thing" and "So Right Tonight" were staples of his live shows.  An accom...
» Click here for the full story.