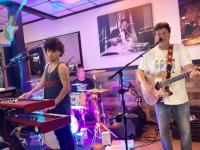 Lennon & The Leftovers will play Friday at Bourbon St.; Saturday at Cork Bar.
Side Project will perform Saturday at Harborside; maybe Jimmy Charles (who plays Sunday at Bourbon St.) will show up.
Hey, hey!  I ended last week's column saying I was signing off for a while ... at least until I had something to say.  Didn't take long, did it?  After hearing Lennon La Ricci last week at Coins, I'm bubbling over with the enthusiasm I caught hearing that performance and just have to share it.  The excitement that Lennon & The Leftovers generates is simply infectious and contagious ... I don't mean as in virus; but his performances should be viral.  This young man should be all over the internet and it may not be long before he his.  Right now you can go to YouTube and find several of his songs featured, including his original "Birds On A Wire."  There should be much more; coincidentally, I saw proud dad Ricky filming a song as I was writing my notes.  Speaking of Ricky, we have enjoyed his music for so many years and I have to say that he has a noticeably new joie di viv in his performances.  For instance, when he sang, "What Is Hip?" by Tower of Power he was explosive.  Ricky sings with a panache and abandonment that maybe comes from years of being comfortable onstage.  And part of that particular performance is that he isn't even playing his guitar so he was free to jive and dance a little.  Of course that's because this song most aptly illustrates how amazing it is that so much sound can come from only two instruments playing.  Lennon plays bass, melody and lead parts ... and horns ... on his keyboard while Mike's drumming is over the top - so entertaining.  This trio plays an incredible show that includes Rock, Soul, R&B and a healthy dose of The Beatles.  So much fun!  You can hear the tonight at Bourbon Street and Saturday at Cork bar at 4 pm.  

Sunday was a blast hearing Side Project play the closing party at M.R. Ducks.  This group has so much to offer from the incredible vocals of Mike Trader and harmonies and guitar from Jeremy Brink.  Brian McKenna is the more than capable man behind the drums and Mike Rogers played bass with a stand-in few songs from Jeff Davis of Full Circle.  But there's a young man who has fast become the star of the show: Gavin Hades!  Audiences are amazed that someone so young could have already mastered the guitar playing every bit as good as his idols Van Halen or Hendrixx, just to name a few.  Maybe the days of Gavin (15) being introduced as Jeremy's son will soon be a thing of the past, although Jeremy's obvious pride in his son will never fade.  It was a joy to watch and hear as anyone who was there that day will attest.  This family is loaded with music in their genes as we also heard from Gavin's cousin Jonah (16) who played a few cool blues tunes on guitar.  I'm personally thrilled that our up and coming young players are keeping my (our) classic rock music alive.  Long live rock n' roll.  Hear Side Project Saturday at Harborside.

Hey, Jimmy Charles is coming to town to play for the Toys For Tots benefit at Bourbon St. on Sunday at 5 pm.  Gonna be fun.  On Monday some of us are gathering at Coins at 2 pm to celebrate the life of our friend DonWimbrough who passed away recently.  Don leaves his own musical legacy having played keyboards with Paper Cup, The Klassix and most recently Old School here in Ocean City.  His Old School bandmates will honor him with music and special performances (including me opening with "Amazing Grace").  All are welcome.

On that note, I'm going to sign off again.  We'll see if I have anything to say next week.  'Til then, my friends, party safe.


«Go back to the previous page.